Dinners For Busy Weeknights: Herb Crusted Pork Loin
Nothing beats a one pan dinner. This dinner will make anyone happy, especially the chef because most of the work is done by the oven. Pork loins are great to cook with when you're busy or not in the mood to do a lot of cooking. They roast in the oven easily and for a while. So where the cook time might not necessarily be short, it does leave plenty of time to get other things done around the house or to finish that project you're almost done with. Check it out.
I like to rub the pork loin with a little olive oil before the herbs. It gives the herbs something to stick to until they start baking into the meat from the heat. It also adds a little extra flavor and juiciness.
You can use whichever blend of herbs you like. I personally love the four I used for this particular recipe, parsley, rosemary, thyme and oregano, but it would also go really well with some sage for a fall twist or even some mint and basil for a lighter version.
If you want to add a little extra tang, consider squeezing a pit of lemon juice over the loin before baking. Especially with the herbs, it would add a nice and interesting touch.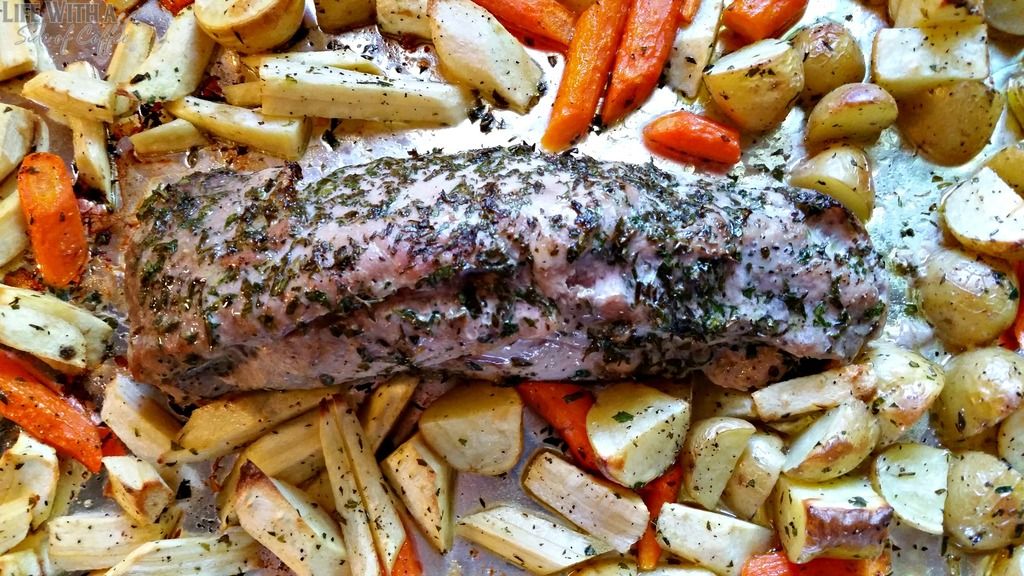 Herb Crusted Pork Loin with Roasted Fall Veggies
An easy weeknight dinner that is also healthy. Just pop this one-pan dinner into the oven and call it a day.
Ingredients
2 lb.

Pork Tenderloin

3 tablespoons,divided

Olive Oil

2 teaspoons

Parsley

2 teaspoons

Rosemary

2 teaspoons

Thyme

2 teaspoons

Oregano

4

Carrots, quartered

4

Parsnips, quartered

1 pound

Potatoes, cubed

Salt & Pepper
Instructions
Preheat the oven to 350 degrees. Cover a baking sheet with tin foil or prepare a casserole dish. Rub the pork loin with 1 tbsp of the olive oil and spread half the herb mixture over it. Add the veggies to the pan and toss with remaining olive oil and herbs.
Place the tenderloin in the middle of the veggies so they are surrounding the meat. Sprinkle entire pan with salt and pepper. Bake for 45 minutes or until pork is fully cooked and a thermometer reads 145 degrees.
Details
Prep time:
Cook time:
Total time:
Yield:

6 servings