Nothing beats breakfast for dinner some nights. It's comforting, tasty and quite honestly irresistible. So every once in a while, I love to make something out of the ordinary for dinner that could also be made for breakfast. This hash was one of those. Fall veggies are so delicious and I just love incorporating them into as many meals as I can. Butternut Squash is a great one to just throw in here and there because it cooks well in a bunch of different ways. Just be sure to cube it small enough so you're not cooking it for hours.
The vegetables will take about a half hour to cook in total but you're going to add them in at different times. Start with the onions, squash and potatoes. The starch will take the longest to cook out of everything so you need to get that cooking first. Ten minutes after they've been cooking, add in the carrots so they can get going as well. The thinner you slice the carrots the easier they will cook up. Last, you'll add in the mushrooms, peppers and herbs ten minutes after the carrots. They don't take long to soften so they'll wait till the end of the cooking process.
I prefer scrambled eggs with my hash but this would also be tasty with eggs over easy or a fried egg. It's really up to you. This would be delicious as is without any eggs so if they're not your thing, just leave them out.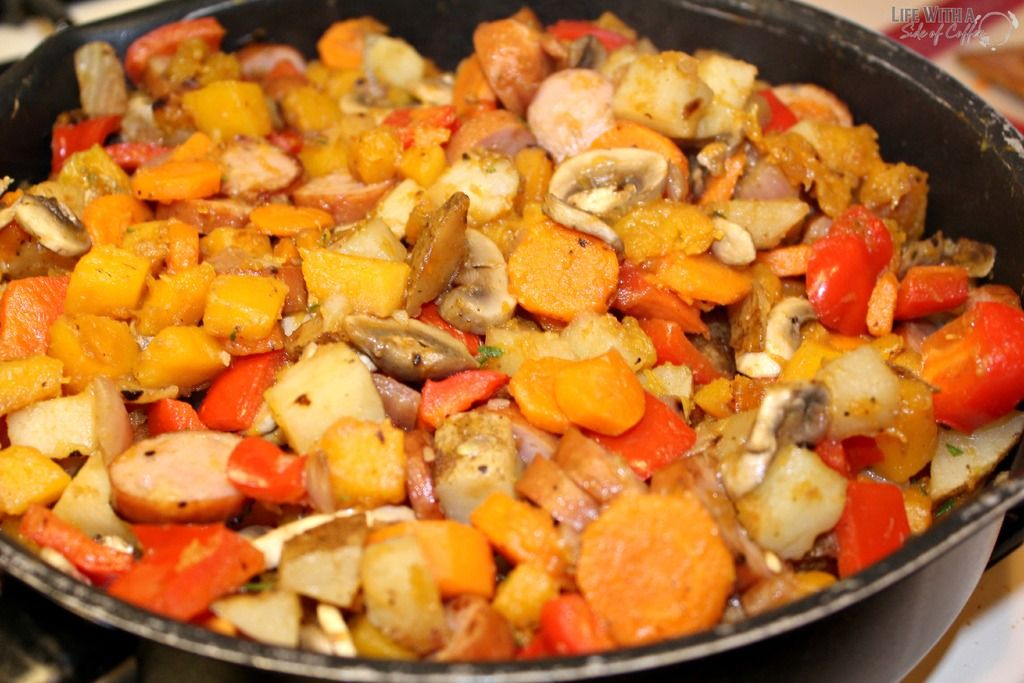 Sausage and Fall Veggie Hash
A breakfast for dinner meal that's comforting and tasty.
Ingredients
1 tablespoon

Olive Oil

1 package

Turkey or Chicken Sausage, sliced

1/2

Onion, chopped

2

Sweet Potatoes, cut into 1/2 inch cubes

1/2

Butternut Squash, cut into 1/2 inch cubes

8 ounces

Mushrooms, sliced

3

Carrots, sliced

1

Red Bell Pepper, cut into 1-inch chunks

1 teaspoon each

Rosemary & Thyme, chopped

4-6

Eggs (optional)
Instructions
Heat a large skillet over medium-high heat and warm olive oil. Brown sausage, remove and set aside.
Add onion, sweet potatoes and butternut squash to the skillet. Add in carrots about 10 minutes later continuing to cook and soften. 10 minutes after the carrots, add in the peppers, mushrooms and herbs. Cook for 10 more minutes until all the vegetables are softened and cooked through. Cooking time for the vegetables will total about 30 minutes.
Serve with or without eggs on top cooked to your preference. I prefer scrambled eggs with a hash.
Details
Prep time:
Cook time:
Total time:
Yield:

6 servings