Descending into Boston, I had the biggest grin on my face. It was grey and rainy, barely 40 degrees but to me, it was perfect. The trees were turned their gorgeous fall colors and as we flew into Boston Logan Airport, I knew this would be one of my more memorable trips. Boston is a magical city. It's one of those places I've always wanted to visit and as soon as I spent five minutes, felt like I belonged there. It's a city with character, personality and a unique vibe all its own. It's a cultural hub, a foodie's dream, a history fanatic's playground. It is, to date, one of my favorite cities I've ever visited and one that I can't wait to return to.
There are a number of hotels to stay at in Boston. Hotels with a fascinating history, hotels that are new and hip and hotels that are trustworthy and predictable. From comfortable to luxury and sophistication, there's somewhere to stay for every personality and preference. For me, I couldn't pass up The Boxer Boston. Located between the historic North End and Beacon Hill, The Boxer is located in an old Flatiron Building originally constructed in 1904. Recently renovated by the Independent Collection, it's now a boutique, 80-room hotel overlooking downtown Boston with an industrial chic aesthetic. Masculine but sophisticated, artsy yet modern, it has a unique vibe that's welcoming, fun and fitting for it's location and clientele.
Checking In
Stepping into the foyer, you're immediately greeted by a friendly front desk staff. There's a cozy sitting area to your right, Finch (the hotel's restaurant) straight forward and the elevators to go up to the rooms on your left. The staff has a wealth of knowledge about the city of Boston. After getting me set up with my room, one of the staff members walked me through a map of the city showing me where I am and where some great places to eat and see were. Any time I needed a recommendation or to ask for directions, they knew exactly what to say. Every single person I interacted with on the staff were friendly, helpful, courteous and went above and beyond the service level I'd ever expect. One even came up to show me how to work the shower when my sleep-deprived brain couldn't figure it out!
The Room
My room was a cozy Traditional King with one king bed. There was plenty of space for walking around, a nice-sized desk for working, an open closet area, extra seating space and a very large bathroom with plenty of counter space. The windows practically took up a whole wall and boasted a gorgeous view of downtown Boston. The bed was comfortable with down pillows, a down comforter and crisp white sheets. A single-cup Keurig coffee maker with Boxer Boston mugs sat on a shelf for your morning coffee fix. It was the perfect size for a 5-night stay, especially for someone who was there to work and play.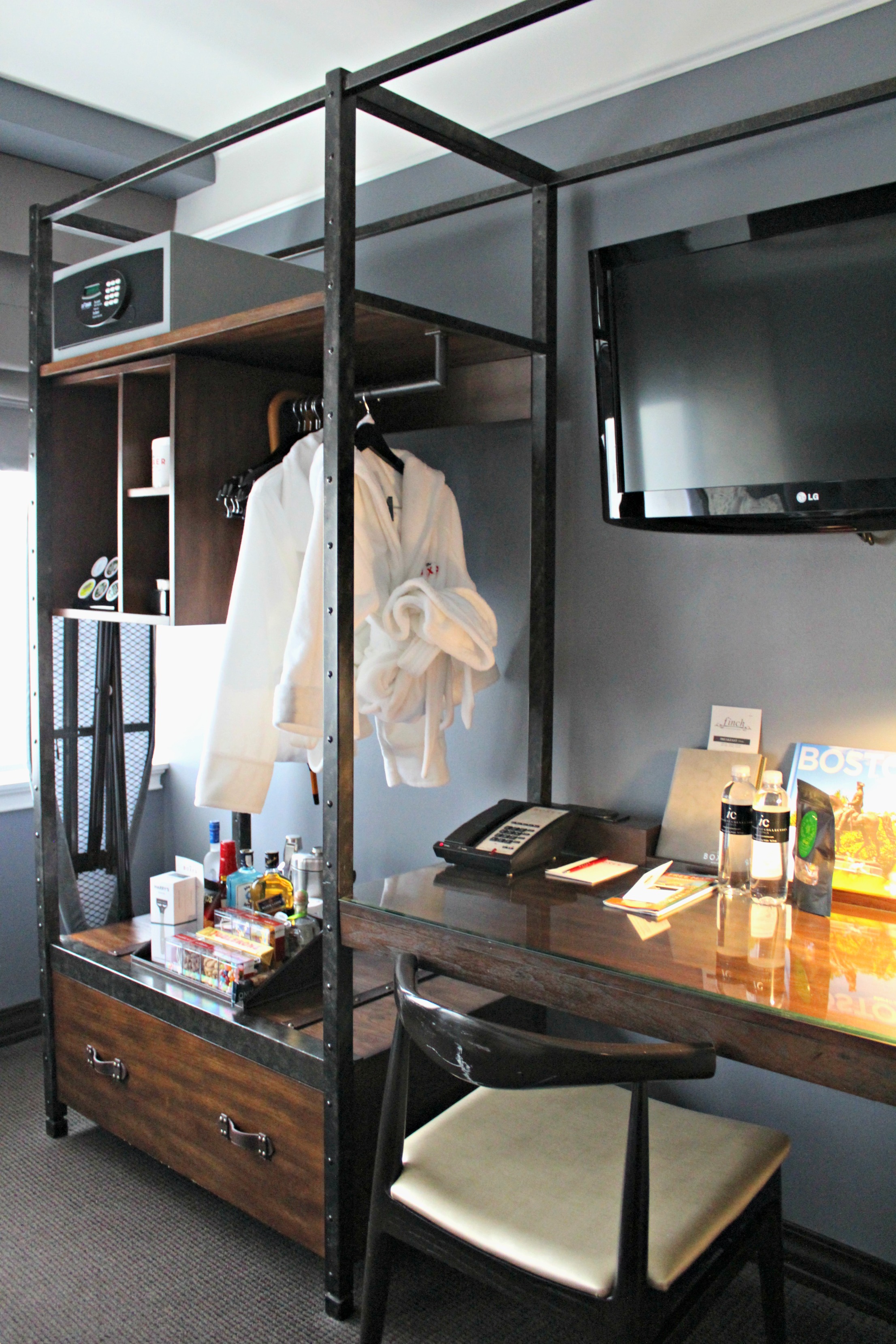 The Food
Downstairs, adjacent to the lobby, is The Boxer's partner restaurant Finch, a hearty American restaurant. Finch feels more like a lounge than an actual restaurant with cozy seating throughout the space. It features exposed brick walls, large windows, plush leathers, vintage-inspired touches like antique jar pendant lights and barrel-back bar stools. Finch offers breakfast and dinner as well as bar bites. Their cocktail and liquor menu is quite extensive from classics like a Whiskey Sour to innovative options like the Sweet & Stubborn. The breakfast and dinner menus are also incredible. I'll share my thoughts on those a little bit later.
The Neighborhood
The Boxer isn't particularly in any one neighborhood, instead sandwiched perfectly between the North End and Beacon Hill. Both are historical neighborhoods with brick and cobblestone sidewalks and roads.The North End is famous for its Italian flare and influence. You'll find some of the best Italian pastry shops in the North End as well as the best Italian restaurants. It's a must-see for foodies as well as those who love history as you'll see a great portion of the Freedom Trail here as well. Beacon Hill is one of Boston's ritzier neighborhoods. It's also home to the famous Acorn Street where people notoriously take millions of photos. Visiting Beacon Hill, you'll spend a good portion of your time on Charles Street where all the cute shops and restaurants are. The best perk of staying at The Boxer Boston is the ability to walk to both of these neighborhoods and beyond. It's not necessarily central in location since it's towards the west end of the city but it's a great location nonetheless.
The Verdict
I didn't receive any special discounts or comped services for staying at The Boxer Boston. I found this hotel and chose to stay at it on my own and it was worth every penny. Boston is not a city you should expect to save money in while traveling but The Boxer was not outrageously priced, it was actually quite affordable. With the quality you receive in your stay, it's honestly a steal. I've already recommended The Boxer to people I know and I will continue to do so. I honestly, genuinely enjoyed my time here